Native American PGA Tour Player Wins At Golf Club Opening
PGA Tour star Notah Begay III helped to commemorate the opening of the new $12 million championship Barona Creek Golf Club on February 1. Begay played in a nine-hole exhibition to benefit the Pro Kids Golf Academy, a non-profit organization that helps inner city kids get off the streets and onto the fairways. By scoring two birdies and making par on the back nine of Barona Creek, Notah raised $6,000 for Pro Kids, which was donated by Barona Casino.
"This is an extremely challenging course," said Begay. "I used every club in my bag to play the back nine. The greens are very quick here and I wasn't quite expecting it. This year there were only two tournaments on the PGA tour with faster greens than Barona Creek, and one of them was the Master's. I believe that if you learn how to play this course at Barona, you can play any course in the world."
The Pro Kids Golf Academy — PGA Tour Charity of the Year in 1996 — has provided inner city youth with a positive alternative to the streets by providing a safe environment at the Colin Park Golf Course.
"I really wanted to make that final birdie on the 18th hole for the kids," continued Notah. "Today was enjoyable, but mainly it was an honor that I was asked to help raise money for them."
The event, which was free to the public, began with Notah warming up on the driving range and putting green while an eager crowd of hundreds of people watched and occasionally shouted questions to the obliging PGA golfer. The crowd, which included several television news crews and journalists, followed Notah and his foursome during the entire exhibition.
"We're thrilled that Notah Begay, the only Native American player on the PGA Tour, helped us celebrate the opening of the Barona Creek Golf Club, the first and only California golf course developed on Native American soil," said Clifford LaChappa, Chairman of the Barona Band of Mission Indians. "Today is symbolic of how far our people have come over the past century, and something that none of our ancestors would ever have imagined to be possible."
Several Barona Tribal members joined Begay to play the course, including Clayton Curo, Adam Reyes, Micha Banegas, Bruce Curo, Anthony LaChappa, JoJo Curo, Edwin Romero, Larry Banegas, Beaver Curo, Harold Hill, Pat Curo and Richard Welch. Eagle LaChappa, a Barona Tribal member who is a Golf Professional at Barona Creek, significantly helped out as Notah's caddie for the day.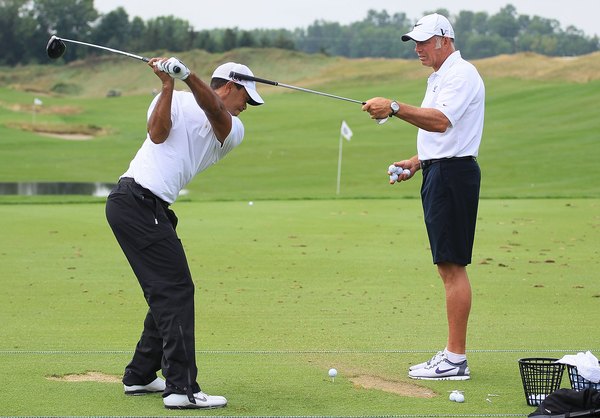 "I really enjoyed meeting Notah. Not only is he a unique individual, but he's extremely intelligent and knows a lot about his heritage, where he's come from and where he is going," said Eagle LaChappa. "His visit today will inspire the kids around here and it was inspirational to me to have a chance to observe him. He really takes his job seriously."
Notah, who earned over $1.8 million on the PGA Tour last year, scored par on the new championship course. Begay became the first Native American to win on the PGA Tour since Rod Curl in 1974. In addition, Begay was a member of Stanford University's 1994 NCAA Championship team with Tiger Woods.
Notah wrapped up his day at the Barona Creek Golf Club by teaching a Golf Clinic for Tribal members and invited guests at the driving range.
"It was very exciting to have Notah here at our Reservation," said Chairman LaChappa. "Many of our tribal children had a day that they will remember for the rest of their lives, as did everyone at the course today. What a great way for the tribe to open Barona Creek. I just hope that everyone else enjoys the beauty and challenge of Barona Creek Golf Club as much as Notah did."